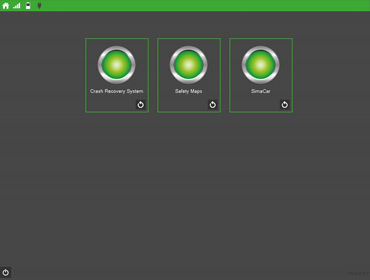 Gelderland Zuid Safety Region and SafetyCT recently signed two agreements. The first was a renewal of the existing agreement for navigation and creating and managing digital access maps. The second agreement relates to the supply of a software solution for the mobile data terminals (MDTs) mounted in the fire engines.
The main requirement was the ability to use a state-of-the-art vehicle viewer without changing the existing hardware. SafetyCT currently already supplies this vehicle viewer in 6 safety regions.
Another important factor is that the software immediately achieved a high level of acceptance throughout the organisation. In several interactive sessions with drivers, commanders, duty officers, team leaders and IT, a consensus was quickly reached regarding desirable changes to the version currently used in the other regions to ensure optimal provision of mobile operational information to all user groups.
This package involved a total of 21 new functionalities, such as the ability to see several map layers at the same time, displaying both the current location and the incident location on a single map, being able to see all the emergency vehicles deployed to the incident, being able to set the viewer based on the user's operational role, integration with photo/video, Street View and drawing functionality. In addition, the safety region wanted to incorporate "dashboard" functionality on the main page for fast and convenient switching between applications such as the viewer, crash recovery, navigation and so on. Obviously, the process for adding possible applications in the future also needed to be shortened and simplified as much as possible. At present, the team is already working on the designs for the next innovations.
The implementation plan is challengingly short: users are already attending focused training sessions in the evenings and we expect the system to be "live" on all vehicles by January 2020 at the latest.
Obviously, SafetyCT is proud and privileged to have won this new contract and we look forward to a pleasant and constructive continuation of our collaboration with Gelderland Zuid safety region.